Warhorses
We have a small core group of horses that we use for all of our activities including jousting. These horses are owned privately but are made available to approved riders subject to the owners' permission. Until late 2017 we had a team of 4 horses but we had to retire two of them (age).
This very much limits what we can do at the moment as only Monty is a proven jouster. We have started working with a new addition - Rocky - who is doing really well. 
So hopefully by the time the 2019/2020 display season kicks off we will have enough capacity to start doing jousting displays again.
Below are the details of our own local (Upper Hutt) team of horses.
Monty
Monty is a 16.1 (165 cm) hand Stationbred (probably ½ Clydesdale and ½ Stationbred) who we purchased in 2007 when he was 5 or 6 years old. We don't like rushing horses into jousting - especially young ones. So once Monty was fully grown (age 8 or 9), we started training him for jousting. He rapidly developed into a trained Warhorse and he performed brilliantly in his debut jousting tournament - Taupo 2010. Since then, with his huge presence and alpha personality, Monty is our lead war horse he loves to joust. We also compete with him in dressage, flat classes, jumping and One Day Events.
---
Will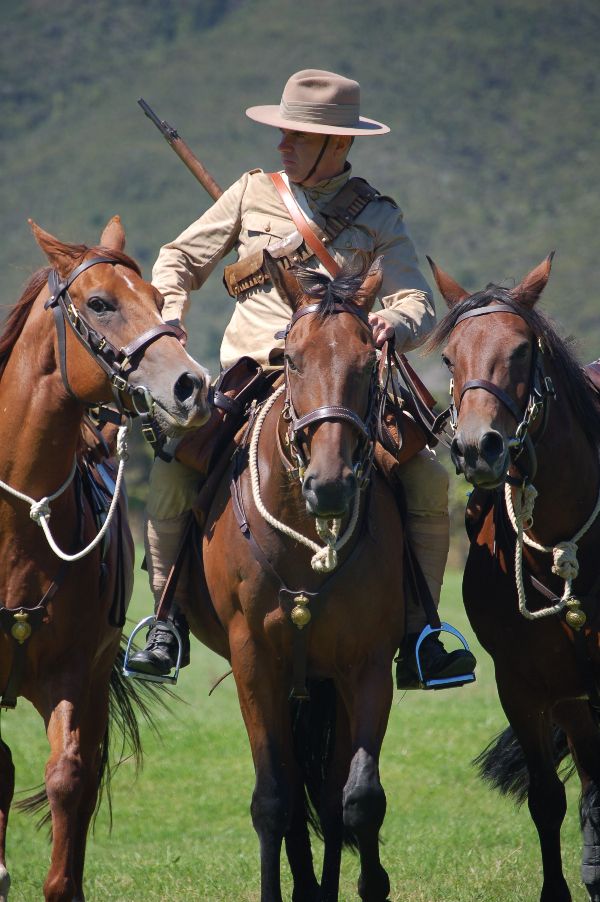 Will is a 15.3 hand (160 cm) gelding who we purchased in 2005 when he was 9 years old. We are unsure of his breed but he is a warm blood cross. Will was one of the stunt horses used on Lord of the Rings where he was mainly used as a front line "Rohan" cavalry horse. During the 2008/2009 season he developed into an all-round warhorse, particularly at Harcourt Park 2009. He is not that keen on jousting so we retired him from that in 2013 but he is good at everything else.
His forte is as a mounted rifles horse in which he excels as the vital "Number 3" horse in a Section of 4. 
---
Rocky
Rocky is a 16.2 (167 cm) hand Erewhon bed Station bred who we purchased in 2017 when he was 11 years old. After r giving him some time to settle into his new home with us, we have started training him for jousting and other warhorse activities. He seems to enjoy this training very much so we hope to have him ready to joust in time for the 2019/2020 display session.
---
Charlie Warhorse
Updated 18/2/2019 - Charlie Warhorse had a severe attack of colic on 11th February for which the prognosis was very bad so he was regretfully put to rest.
Charlie Warhorse was a 15 hand (153 cm) Pony x Standard bred cross. We purchased Charlie in 2001 when he was about 8 years old and he quickly became one of our main horses before his death in February 2019.
What to say in a few worlds about a horse that was a legend in the jousting community. Well for starters he was the best. Over 18 years we threw everything at him. This horse did more in his 18 years with us than most horses get to do in a life time. He also had a successful career as a sports horse with us and we used him for about any re-enactment activity that you can think of. From LARP to being strafed by Fokker Triplanes - nothing bothered him.
Every jouster that we have trained has done time on him. Whenever we hosted international jousting events he was the one horse that everybody wanted to ride.
A couple of Summers ago he developed a really bad respiratory infection which he never really recovered from so we retired him from all events and just worked him carefully at home. This year he had a really good Summer and seemed to be returning to the Charlie of old. On Sunday afternoon he was being ridden by one of our new riders and he looked superb. So it is good that right up to the end he was still doing what he did best.
He was 26 and will always be in our hearts.
The Medieval Warhorse in Modern Times
Horses are the key elements for the success of any cavalry based re-enactment group.
In the Order of the Boar everything is focused on the care and welfare of our horses. We have adopted the old cavalry adage "the horse, the gear and then the man" - as our group's motto.
Although several modern breeds of horse claim lineage with the original medieval warhorse, most of these breeds have been bred for other purposes in later centuries and are often no longer suitable for their original purpose of jousting.
We instead use solidly built horses in the 15 to 16.2 hands range (150 cm - 165 cm). This is in line with archaeological and other historical evidence as to the actual size and look of the medieval warhorse; one of the great myths of modern times is that medieval warhorses were the equivalents of today's huge Shire and other draft breeds.
However the right physical characteristics are not enough. All of our horses have been selected because of their boldness and their reliable temperament.
It takes a great deal of work to train a horse to joust, but more importantly the horse also has to enjoy it. If a horse is not comfortable with any activity there is no way that the rider can humanely enforce his or her will over it.
All of the horses used by the Order of the Boar are owned by our Riding Members. Most of these horses are also used in other equestrian activities including Dressage, Jumping and One Day Eventing by their owners so they all have a lot of variety in their lives!